Wicker and Rattan Outdoor Furniture – Brilliant Tips To Preserve  
Wicker and Rattan Outdoor Furniture can withstand the weather of all regions, all the harshest weather conditions. But if we take care more, they will last their lifespan and use them longer.
See more: https://outdoorfurniturevn.trustpass.alibaba.com/?spm=a2700.7756200.0..522a1afa9ujkcW
1. You should choose high-quality Outdoor wicker patio furniture from the beginning
Generally, the rattan furniture set average life expectancy is about from 4 to 5 years. It also depends on the quality and materials. The choice of rattan furniture has related to the price, so choose a slightly higher price to purchase higher quality products and have longer product life. This gives you more cost savings.
See more: https://outdoorfurniturevn.com/blog/how-to-decorate-the-interior-garden-by-rattan-wicker-furniture-2/
2. Preserve the surface of Outdoor Furniture with rattan and wicker outdoor furniture
The surface of outdoor rattan furniture is the most important factor that affects its durability. In the using product process, we should pay attention to the preservation of the surface. By doing so, greatly last their lifespan.
3. Reduce impact and use seat cushions
In addition to the weather environment, external forces will have a great effect on the surface of Rattan Furniture Sets. The most impact position is on the seat and back. They are often tightly knitted and tightened to make the product beautiful and stretchy.
During the using time, they are affected by many forces and will be stretched over time, losing the inherent tension of the product. To minimize this problem, the best way is to use a mattress. The mattress helps the knitted part to bear less force and less elastic. Besides, it also helps to increase comfort. In addition, they increase the aesthetics as well as the elegance of this outdoor rattan furniture.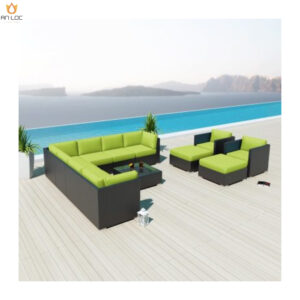 4. Small notes in the process of using Rattan Plastic Outdoor Furniture
– Children should be reminded not to play or step on furniture.
– Limit to sharp iron objects, avoid product deformation, affect the structure.
– Avoid strong impact causing scratches and damage during moving tables and chairs.
– Clean with common detergents.
An Loc Furniture is here to help. If you want to get more information, please contact us
+0905 368 677
or the email:
sales@outdoorfurniturevn.com
https://outdoorfurniturevn.com/
https://outdoorfurniturevn.com/blog/