The professional designers affirm that the outdoor couch is the perfect choice for all spaces for example private homes, resorts, villas … I am sure of 8 couch samples Outdoors below will help you "buy without regret".
See More: https://outdoorfurniturevn.com/blog/rattan-sofa-models-to-elevate-your-house-interior/
1. Work out with 4-piece PE rattan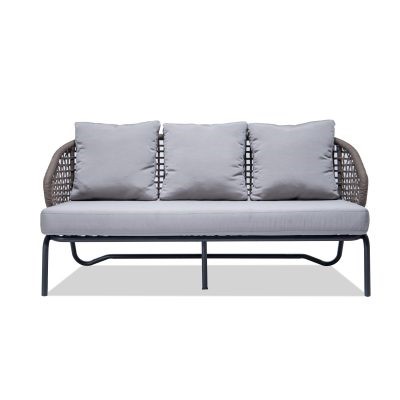 Featuring a gently rounded design with the same size and proportion suitable for small spaces, the PE rattan outdoor couch brings novelty and uniqueness to any space. Scoring in a breathable knit layer helps the user always feel cool, clean and durable in the weather.
People tend to use this outdoor couch for garden corners, swimming pool dining areas, resorts. Bring a sense of relaxation to all visitors. It is known that An Loc Furniture is the best manufacturer to supply this product in the market, the number of customers is quite good, so you can rest assured when shopping here.
2. Round rattan couch TF-9099
Experts rated "value for money", the outdoor couch TF-9099 is extremely suitable for yards, garden, balcony, swimming pool, etc., The outer layer is woven PE rattan creating porosity. The sturdy water-resistant aluminum inner frame withstands all weather, even the salt gas of the sea.
This outdoor couch model is currently the best-selling product on the market with its rounded design in the center. It is happy to enjoy family meals, sit and chat are very suitable. Many colors suitable for all options bring you different levels of emotions.
3. Outdoor couch TF-6048 Leisure Fancy
As one of the top best-selling outdoor couches at the moment, this impressive chair set scores in the eyes of the opposite person thanks to the design that can recline deeper. For the best relaxation while also making a difference compared to similar products.
Products details:
Beautiful handwoven PE rattan products
The aluminum frame is electrostatically welded so it is stainless, not corrosive
UV protective coating to prevent textile color fading
Cushion Fully washable
If you pay attention, you can see that the chair is somewhat classic but extremely handy, comfortable and very easy to clean. This is also a model of a bench with a sales volume "exceeding" the "seniors and sisters" before it at An Loc Furniture.
4. Elegant Wicker Outdoor Bistro Set 5pc outdoor couch
Bring the breath of modern life into your family garden, enjoy the party and relax at any time is the TF-6047 5pc Elegant Wicker Outdoor Bistro Set.
The seat design is square, low, angled to bring simplicity and lightness to the space. Small aluminum powder coated, flat extruded Polypropylene is woven into the powder-coated aluminum frame completely unlike the inexpensive product manufacturers. Provides resistance to heat, cold and even frost, sea salt.
You can optionally arrange this set of tables and chairs by the poolside, in the resort, or in your family's living area.
5. Outdoor sofas – TF-6042 9pc Rattan Furniture
Located in the cheap outdoor couch segment, TF-6042 9pc Rattan Furniture seems to bring perfection to help users "buy without regret". The dome backrest design is both unique and extremely comfortable. Wicker with durable PE rattan, sharp color, people coat-powder aluminum frames to ensure durability in all weather conditions.
The strength of this outdoor couch is equipped with 1 double chair, 1 chair 3 for more perfect fun.
6. The love couch
Specifications of the outdoor couch:
Certificate: SGS approved.
Material: Iron frame size (1.2 + 1.5 + 1.8 + 2.0mm); 6mm Olefin wire; Mable made of solid steel 14mm in diameter
Color: Optional according to preference
Cushion: 92 * 79 * 11cm (single) + 172 * 79 * 11cm. Back pillow: 54 * 54 * 15cm Round: 38 * 38 * 13cm
Net weight of chair: (Single sofa) 22kg + (Double sofa) 35.5kg (Table) 49kg
The design is small details woven with PE rattan to create a unique, fancy and airy in hot days but not cold on winter days. The outdoor couch still ensures 5 seats for you and your family to chat.
7. Outdoor couch for families of 2 to 4 members
The design is 2 opposite couches, each seat holds 2 to 3 people, suitable for families, resorts … On the chair, the body includes modern cushioning, a modern, single outer frame color that does not rust.
8. Outdoor couch 1 chair 1 table
As the designers of An Loc Furniture said, the design of the outdoor couch including 1 table and 1 chair is very popular due to space-saving. The colors of the hug pillow are also richly selected to bring a bold color space.
Above are 8 outdoor couches that are sure for you and your family to experience the perfect life. Remember, product selection is not as important as finding a reliable supplier so you can "buy without regret".
An Loc Furniture:
Phone:+84 905 368 677
See More: https://outdoorfurniturevn.com/blog/outdoor-wicker-sofa-sets-magnificent-durable-suitable-for-every-house/