The influence of working from home has people looking for ways to change their work habits and lifestyle. They want to renew living spaces and renovate outdoor spaces. Both are aesthetically pleasing and comfortable becoming more necessary than ever.
Let's find out some of the latest designs for outdoor wicker patio furniture.
1. Minimalist interior

This is a trend that started a few years ago. It still attracts those who prefer a minimalist style, using few items but still fully functional. Outdoor wicker patio furniture is designed simply to limit sophisticated textures. The most used shapes in design are round and square. The colors are mostly light or neutral. To create more highlights for spaces, some accessories such as pillows, mattresses, or flower pots on the table are often combined when decorating the space.
2. Comfort emphasizing

To enjoy the most comfortable outdoor relaxation time, interior designers began to pay attention to the user experience in addition to the aesthetics of the space. The couches are designed with larger armrests for placing cups and snacks while relaxing outdoors. Outdoor furniture begins to consider designs with easily removable cushions and backrests.
3. Multi-purpose furniture

In recent years, the trend of multi-purpose outdoor interior design is very popular. Outdoor wicker patio furniture has the advantage of being easy to move when combined with smart design, making it easier to refresh your outdoor space.
The detachable multi-section couch is currently popular that the users can assemble into a bench, or separate into individual seats depending on outdoor events or different preferences. Or a long outdoor dining table for a big family can also be transformed into an ideal outdoor desk, which is a well-known choice, especially when working from home like nowadays.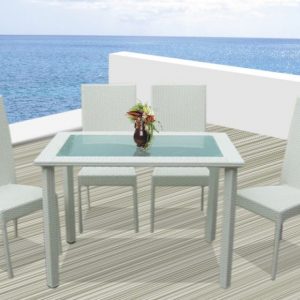 4. Usage of materials bring flexibility to the product

Outdoor furniture requires materials with certain durability but must ensure aesthetics and convenience when moving. Therefore, outdoor interior designs tend to look for materials such as plastic rattan (PE rattan), natural rattan combined with wood, iron, aluminum, metal, glass, etc.
Outdoor interior furniture from this material allows homeowners to have more design options at an affordable cost. Especially the convenience when moving and arranging outdoor space are great points that make these products more popular than other traditional pure materials such as wood, aluminum, metal…
An Loc Furniture offers a variety of products to suit many new design trends, with natural rattan materials combined with metal, wood, and plastic materials. The combination of modern and traditional, functional and aesthetic brings many convenient outdoor furniture choices for you.